Over 20% of people are excluded from education, employment, and healthcare due to inaccessible digital technologies and content.
Digital technologies (such as software apps, websites, digital documents, and operating systems) are often designed without considering the needs of people with disabilities. Remediating existing accessibility issues can be a time-consuming and expensive process that still fails to include the disability community and often leads to delays in access.
The new Maryland Initiative for Digital Accessibility (MIDA) combines the expertise and passion of researchers, designers, developers and educators from multiple disciplines at the University of Maryland with a united goal of making digital technologies accessible for all. MIDA aims to involve the disability community, private and public partners, and anyone interested in accessibility issues, in technology development projects, public outreach programs and advocacy. We will collaborate with others to proactively build in accessibility when developing new technologies – known as the "born-accessible" approach.
MIDA has five high-level goals:
Building a community

of faculty, staff, and students across the University of Maryland (UMD) who are passionate about digital accessibility

Creating opportunities for UMD to engage with external stakeholders

including disability rights groups, technology companies, and policymakers

Developing technology projects to improve accessibility and demonstrate the born-accessible approach to design
Fundraising

to further support MIDA's mission 

Increasing awareness of digital accessibility

through public events and programming at UMD.
Funding for MIDA is provided by the UMD Grand Challenges program, UMD College of Information Studies, UMD College of Education, UMD Division of IT, and Adobe.
---
Including Disability
MIDA is the organizational home for the Including Disability Global Summit and the Including Disability Journal.
The Including Disability Global Summit
 is an international forum for dialog and collaboration about large-scale societal, technological, political and other barriers that challenge disabled people.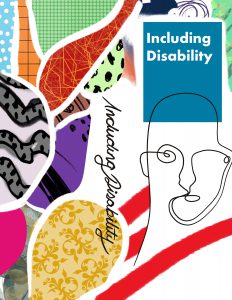 Including Disability
is a peer-reviewed, online, open access journal that provides cross-disciplinary, cross-disability, and cross-sectional examinations of large-scale social, technological, cultural, and legal barriers faced by disabled people and offers innovative approaches to eliminating these barriers.
---